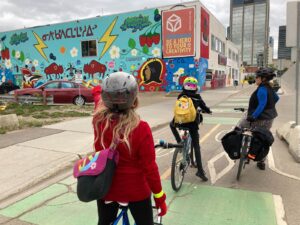 Written by Tracey Coutts, Ever Active Schools Watching young cyclists discover the freedom and thrill that comes with learning how to confidently navigate new neighbourhood and community routes is the equivalent of reading about C. S. Lewis' Lucy moving deeper into the wardrobe, brushing past fur coats that transform to fir tree branches, on her…
City Cycling Strategies & Wheeling for Wellness
It is a wonderful thing when municipalities invest in infrastructure that supports active travel modes and the City of Edmonton's Bike Plan is a good illustration of that. However, as the Bike Plan comes to life, young cyclists need to grow with it. The Bringing City Cycling Strategies to Life for Edmonton Students project was designed with these cyclists in mind. City Cycling Clinics invite participants to improve skills, increase safety awareness, learn basic bicycle maintenance, expand their knowledge of emerging cycling infrastructure, connect with YEG's cycling community, and have fun. In addition to that, all bicycles are inspected by certified bike mechanics and participants are treated to a 10km guided ride through Edmonton's downtown core.
This project has successfully completed its pilot stage. Through new funding from the Edmonton Community Foundation, this project is being scaled to an additional ten Edmonton communities. In collaboration with Karly Coleman and Bike Edmonton, we have produced a comprehensive City Cycling Clinic Guide, available as a free download.
Our hope is to see more confident, informed Edmonton youth using the city's expanding bike network to travel actively — not just on their daily commutes to school, but whenever they can!
Scaling of the City Cycling Strategies project continued in Spring 2020 when it was adopted by the Tri-Region and broadened to include mental health awareness for clinic participants. Through funding from Achieving Community Together (ACT), three Wheeling for Wellness cycling clinics were planned for 90 youth cyclists. Strong community partnerships with ACT, Family and Community Support Services, Parkland School Division 70, and the Stony Plain Youth FCSS Gears program allowed for Ever Active Schools to implement these clinics in Stony Plain, Wabamun, and Spruce Grove.
Interested in learning more or getting involved?