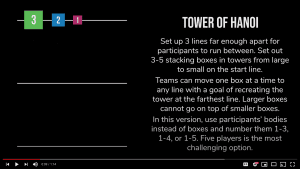 September is here and Alberta students are heading back to class, but students under the age of 12 are not yet eligible to receive a COVID-19 vaccine. While masks, physical distancing and other public health policies are fairly straightforward to apply in many classes, Physical Education brings unique challenges: masks are not worn during moderate-to-vigorous…
Youth Wellness Leader Certification
Building on the existing Miyomahchihowin (In Good Health) portfolio, Ever Active Schools has created the Youth Wellness Leader Certificate: the first-of-its-kind youth-focussed equity, diversity, and inclusion leadership training to be recognized by recreation and human services employers across Alberta.
This program offers low-barrier training to youth seeking local employment in the areas of after-school and summer recreation programming. The goal is to address youth barriers to both graduation and employment by working with school jurisdictions to support credit-earning, providing equitable access to industry-standard certifications, and working directly with employers to support equitable hiring practices for youth.
With a focus on fostering equity and belonging through physical activity, this certificate will open doors to employment for youth through nationally recognized training in HIGH FIVE's Principles of Healthy Child Development and Ever Active Schools' physical literacy and equity, diversity and inclusion training. Through funding from RBC Future Launch, we are able to offer certification to more than 300 youth during the 2021-2022 school year.