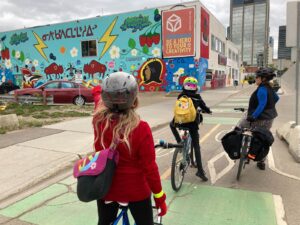 Written by Tracey Coutts, Ever Active Schools Watching young cyclists discover the freedom and thrill that comes with learning how to confidently navigate new neighbourhood and community routes is the equivalent of reading about C. S. Lewis' Lucy moving deeper into the wardrobe, brushing past fur coats that transform to fir tree branches, on her…
Youth Wellness Leader Certification
Building on the existing Miyomahchihowin (In Good Health) portfolio, Ever Active Schools has created the Youth Wellness Leader Certificate: the first-of-its-kind youth-focussed equity, diversity, and inclusion leadership training to be recognized by recreation and human services employers across Alberta. Through this training, youth will increase their knowledge, understanding, and skills to foster active environments and recreation opportunities that are equitable, accessible, and inclusive. 
This program offers low-barrier training to youth seeking local employment in the areas of after-school and summer recreation programming. The goal is to address youth barriers to both graduation and employment by working with school jurisdictions to support credit-earning, providing equitable access to industry-standard certifications, and working directly with employers to support equitable hiring practices for youth.
Aiming to increase employability for 15-25 year olds, the certificate includes 10-12 hours of training (in-person and virtual options), high school credit opportunities, resource bags and HIGH FIVE certification. Through funding from RBC Future Launch, we are able to offer certification to more than 300 youth during the 2021-2022 school year.