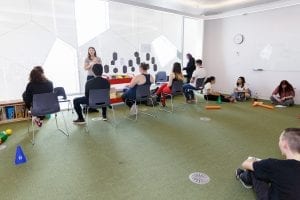 One-time professional development sessions on a variety of pre-determined topics, or customizable to suit your school's unique needs.
Providing your school with direct access to a Health and Wellness Consultant to help you achieve your unique goals.
Physical education lesson plans created by teachers, for teachers, in a convenient recipe card format. Available for grades K-12.
A podcast designed to help you power up your practice with discussions around health & wellness in school.
Ever Active Schools is raising money to expand the Indigenous Youth Mentorship Program (IYMP) into four additional Alberta communities. Through this platform, the Government of Alberta will match a portion of donations up to $1,000 per individual donor.
IYMP is an after-school healthy living program delivered by Indigenous high school students to elementary-aged children in their community. The mentors develop a plan for each session to include active games, a healthy snack and a cultural component.
Shaping the Future 2023
Shaping the Future is an annual conference that brings together educators, health and wellness professionals and researchers to explore aspects of comprehensive school health through a variety of interactive learning formats.
Learn more and apply to present at Shaping the Future 2023 with the link below.
Written by Susanne Heaton, Motivated by Nature Stress is a part of our everyday lives. Some stress is good: eustress is what we experience when we are excited or anticipating a good outcome. The other two types of stress are acute and chronic. Acute stress is a short-lived stressor. Once the danger has passed, the…
Read More
Did You Know EAS has a YouTube Channel?
We regularly feature physical activity ideas (like the one below), project summaries, professional learning and great content from our community partners!
Subscribe using the link below to be the first to know when new videos are released.
Subscribe to our YouTube Channel
Government of Alberta
2020 Minister's Seniors Service Award
The Minister's Seniors Service Awards recognize individuals and organizations who support seniors in Alberta, lead the way for improved services for seniors, and contribute to strong Alberta communities.
Read More
Government of Alberta
2020 Inspiration Award: Innovation
The Inspiration Awards allows the government to honour outstanding Albertans who are making a difference in their communities. Their efforts build awareness, contribute to violence prevention and advance healthy relationships for all Albertans.
Read More
Random Acts
2020 Class Acts Runner Up
The Class Act award program encourages schools to spread kindness around the world.  Congratulations to Bowmanville High School on their first place win!
Read More
Calgary Board of Education
Nov. 2019 Lighthouse Award
The Calgary Board of Education (CBE) Lighthouse Awards recognize organizations that have partnered with the CBE for contributions to its students, schools and programs.
Read More
Alberta School Boards Association
2018 Friends of Education Award
The award recognizes organizations in the community who have made a special contribution to education. EAS was nominated by Northland School Division.
Read More
Canadian Tire Jumpstart Charity
2017 Community Partner of the Year
The Community Partner Award recognizes extraordinary contributions from Jumpstart's Community Partners - individuals who promoted the partnership within the community, disbursed budget dollars and worked collaboratively with the Canadian Tire Family of Companies.