We have a new online store!
Our online store has gotten an upgrade! Visit the new store at shop.everactive.org to check out the awesome products and slick new process.
If you experience any issues with the new store, please contact us!
We're Hiring!
Do you want to join a fun, passionate team that works to support healthy school communities?
Join the Ever Active Schools team!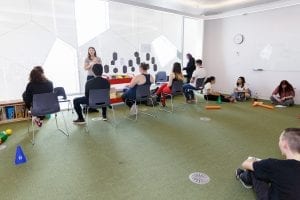 One-time professional development sessions on a variety of pre-determined topics, or customizable to suit your school's unique needs.
Providing your school with direct access to a Health and Wellness Consultant to help you achieve your unique goals.
Physical education lesson plans created by teachers, for teachers, in a convenient recipe card format. Available for grades K-12.
A podcast designed to help you power up your practice with discussions around health & wellness in school.
Shaping the Future 2022 - Postponed
We want to thank all of our presenters, guests and delegates for your patience and understanding as we navigate through the ever changing COVID-19 pandemic. We have made the decision to postpone our annual Shaping the Future conference to Spring 2022. This was not an easy decision but we feel it is the right decision to make for this time, considering the health and safety of our presenters, guests, delegates and staff, as well as acknowledging the other challenges our sector is experiencing at this time. Both the in-person and virtual conference components are being postponed.
Written by Andrea Barnes. Originally published in GEOEC Connections Journal, October 2021. As an Environmental Educator with Alberta Parks and a classroom teacher, one of the silver linings of this past 1.5 years has to be the dramatic uptake and motivation for teaching outdoors. As we move into another year, hopefully, this energy and passion…
Read More
Did You Know EAS has a YouTube Channel?
We regularly feature physical activity ideas (like the one below), project summaries, professional learning and great content from our community partners!
Subscribe using the link below to be the first to know when new videos are released.
Subscribe to our YouTube Channel
Government of Alberta
2020 Minister's Seniors Service Award
The Minister's Seniors Service Awards recognize individuals and organizations who support seniors in Alberta, lead the way for improved services for seniors, and contribute to strong Alberta communities.
Read More
Government of Alberta
2020 Inspiration Award: Innovation
The Inspiration Awards allows the government to honour outstanding Albertans who are making a difference in their communities. Their efforts build awareness, contribute to violence prevention and advance healthy relationships for all Albertans.
Read More
Random Acts
2020 Class Acts Runner Up
The Class Act award program encourages schools to spread kindness around the world.  Congratulations to Bowmanville High School on their first place win!
Read More
Calgary Board of Education
Nov. 2019 Lighthouse Award
The Calgary Board of Education (CBE) Lighthouse Awards recognize organizations that have partnered with the CBE for contributions to its students, schools and programs.
Read More
Alberta School Boards Association
2018 Friends of Education Award
The award recognizes organizations in the community who have made a special contribution to education. EAS was nominated by Northland School Division.
Read More
Canadian Tire Jumpstart Charity
2017 Community Partner of the Year
The Community Partner Award recognizes extraordinary contributions from Jumpstart's Community Partners - individuals who promoted the partnership within the community, disbursed budget dollars and worked collaboratively with the Canadian Tire Family of Companies.