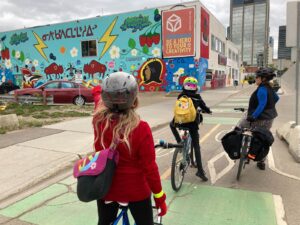 Written by Tracey Coutts, Ever Active Schools Watching young cyclists discover the freedom and thrill that comes with learning how to confidently navigate new neighbourhood and community routes is the equivalent of reading about C. S. Lewis' Lucy moving deeper into the wardrobe, brushing past fur coats that transform to fir tree branches, on her…
Written by Tracey Coutts, Ever Active Schools Welcome sweet Spring, "when the world is mudluscious…(and) puddle-wonderful" (In Just-, E.E.  Cummings) and beckons us outdoors to partake in its miracles. Yes, teachers, we know that many of you have been slipping on those rubber boots and taking your classes outdoors to Explore Your 2.4s and your…
Written by Tracey Coutts, Ever Active Schools THIS TIME LAST YEAR, WHO COULD HAVE PREDICTED THE DIFFICULTY OF THE DECISIONS TO COME AROUD HALLOWEEN 2020? A Halloween night, with a full moon, falling on a Saturday for the first time in five years, should be a spooky season lover's dream. And yet, here we are,…
Active and Safe Routes to School - Calgary
Schools are hubs of community, and quality school travel planning initiatives can contribute to student health and learning outcomes, improve safety, and reduce traffic congestion and harmful emissions that contribute to poorer air quality in school zones at drop off and pick up times. Thanks to funding from the Alberta Traffic Safety Fund and the City of Calgary, Phase I of this project provided training and mentoring support to local Calgary facilitators to build capacity to implement the school travel planning process.
Phase II began in October 2019, made possible through funding from the City of Calgary. Contracted by Ever Active Schools, the facilitators are in the process of implementing School Travel Planning projects in 30 Calgary schools over a three year period. To learn more about this project, visit the City of Calgary's Active and Safe Routes to School page. 
Interested in learning more or getting involved?