Donate to Ever Active Schools
Ever Active Schools (formerly Active Healthy Kids Canada) is a registered national charity and gratefully accepts donations to support our efforts in promoting health and well-being for children and youth. Donations can be made to specific projects, or can provide access to services and resources for schools and families experiencing higher need.
Please contact us for more information on our Leave-a-Legacy Endowment Program.
How does your donation help?
Your donations: support project work in school communities across the province, focusing on emerging needs; create resources for on-the-ground use in schools; and provide workshops to increase teacher capacity for wellness. Click the links below to see what that looks like in practice, and check out our donor snapshot to see a breakdown of how dollars are spent and read some stories of where your money goes.
Support Projects
Ever Active Schools engages in projects to support specific emerging community needs. Some project themes include active school travel, Indigenous youth wellness, activity in the after-school hours, play at school and much more. 
View project work
Create Resources
Ever Active Schools develops classroom resources to help teachers weave health and wellness into every curriculum. When students learn to be well, they take those skills home and forward into adulthood. Well-being is foundational.
View classroom resources
Provide Workshops
Ever Active Schools delivers workshops to teachers and school staff year-round to increase capacity for wellness activities. We also host province-wide events to encourage collaboration and growth for all education professionals.
See PD opportunities
The municipality of Leduc, Alta., has laid much groundwork to make it an active living superstar. From its 85 km+ of multi-use pathways, to Telford ...
Read More

→
The air was filled with excitement and anticipation as the doors to the 2023 Running Shoe Gala opened. It was a night of giving back, ...
Read More

→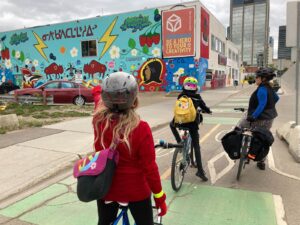 Written by Tracey Coutts, Ever Active Schools Watching young cyclists discover the freedom and thrill that comes with learning how to confidently navigate new neighbourhood ...
Read More

→
About The Charity
Late in 2017, Active Healthy Kids Canada (AHKC), a national charity active in Ontario, was acquired by a board of directors based in Alberta to be a platform for thought leadership, coordination, and awareness for the importance of upstream approaches to healthy school communities. In 2019, the board of directors filed a name change to Ever Active Schools (approved by Canada Revenue Agency, though still in transition on public documents) and assumed governance of a special project of the Health and Physical Education Council of Alberta, operating as Ever Active Schools (EAS) since 2000. The shift in governance enables the alignment of purpose between EAS operations and AHKC charity for enhanced impact, as well as a greater range of possibilities for both strategic guidance and partnerships.

Our work prioritizes the well-being of children and youth, working through school and community settings. In the promotion of optimal health and learning outcomes, we emphasize the role of positive mental health and sense of belonging, equitable access to health and education opportunities, and students as leaders in advancing social issues.