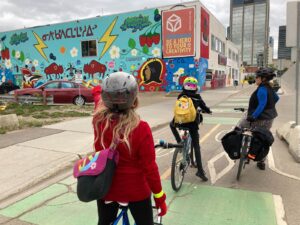 Written by Tracey Coutts, Ever Active Schools Watching young cyclists discover the freedom and thrill that comes with learning how to confidently navigate new neighbourhood and community routes is the equivalent of reading about C. S. Lewis' Lucy moving deeper into the wardrobe, brushing past fur coats that transform to fir tree branches, on her…
"Loose parts" refers to any material that can be moved, carried, stacked or altered(1). Loose parts can include natural materials, like sticks, stones, water, leaves and sand; or recycled materials, like cardboard boxes, ropes, tires, pots and pans, milk crates and tarps. Typically, loose parts play is set outdoors, allowing for the natural environment to become a variable of the play experience and provide the potential for generous physical boundaries.
Research specific to loose parts play is full of benefits and characteristics, including social, emotional and cognitive outcomes(2) and increased physical activity levels(3,4) considered promising and sustainable, but not established or certain. According to the International Play Association(5), play is instinctive, voluntary and spontaneous. Consequently, during loose parts play it is not uncommon to observe a variety of play types, most notably locomotor, mastery, symbolic, imaginative and creative/object play(6).
Since the spring of 2018, EAS has offered professional learning centring around loose parts play. Typically, loose parts play is an option to further diversify the recess experience for students, providing an additional outdoor zone with materials for unstructured, free play. In a few school settings loose parts play has also been used as an approach to support students' readiness to learn and as a strategy to target social and emotional learning. Loose parts play complements physical literacy development in students, targeting the physical, cognitive and affective domains of experience.
We did experience challenges around launching loose parts play programs in schools, and found a myriad of solutions:
Staff buy-in.

Telling school staff you're going to let students run wild with a bunch of recycling is understandably going to raise concerns. To alleviate staff uncertainty, we provided multiple and varied professional learning opportunities, an initial, general intro to loose parts with follow up sessions, and hosted 'teaser' loose parts play sessions, where a small group of students experienced it for teachers to observe — dipping their toes in, shall we say.

Timeline to implement.

The idea of a brand new program with lots of (literal) moving parts is overwhelming for even the least busy of us, let alone teachers! Thankfully, there's no such thing as a set timeline for loose parts play. We worked with schools over the course of a full year and found implementation methods that worked for each unique context - some hosted the program every day of the week, while others started with one day a week and introduced the students in small doses.

Whose responsibility is it?

Guided by the four pillars of the Comprehensive School Health (CSH) framework, responsibility is shared through engagement with whole staff, parents/families, caregivers and community partners. Multiple learning opportunities helped remove the barriers of perception, changing the mindset from "can we do this?" to "this is doable." We identified different ways staff can contribute, such as networking to collect parts, helping to supervise play, set up and clean up, and incorporating loose parts into classroom learning.

Storage.

The first step to finding storage is exploring your on-site options! Unused classrooms or existing outdoor sheds work well, and provide encouragement to clean out those spaces. Portable storage on wheels is a big help. This can include large Christmas tree bags, hockey bags, and curbside waste and recycling bins, to name a few. When space didn't yet exist, we worked with school councils to fundraise or allocate funds to purchase outdoor storage, or partnered with school division facilities teams or municipalities to determine what type of storage is permissible and where it could be placed.

Family/caregiver buy-in.

Families want to give their children the best they can, so the idea of giving them cardboard boxes to play with can be unsettling. We worked with school councils to provide rationale and attended school functions to explain and show what loose parts play is really all about.

Safety and liability.

Some suggestions to address safety concerns would be, first and foremost, to create space for intentional policy discussion and planning. Create play guidelines or expectations; a process for accepting and auditing donated parts; learn about risk-benefit assessment and intervention models; and more.