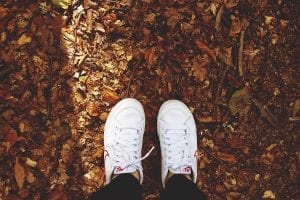 Written by Chesa Peter, School Health Facilitator, Ever Active Schools. Originally published in Healthy Schools Alberta Magazine Special Edition: Active Transportation IN RECENT YEARS, THE NUMBER OF STUDIES ON MINDFULNESS WITHIN THE CONTEXT OF EDUCATION HAS INCREASED DRAMATICALLY. Many studies have demonstrated strong correlations between mindfulness practice and cognitive outcomes such as improved attention and…
Written by: Tracey Coutts, Active School Travel Coordinator, Ever Active Schools SHAPE'S WALKING SCHOOL BUS MASCOT HAS FOUND A NEW HOME IN CALGARY'S COPPERFIELD SCHOOL! On Monday, April 9, 2018, over 50 students, families, school administrators, staff, and other important guests gathered for the launch of the school's Walking School Bus initiative. This initiative will…
Written by: Stephanie Shantz, Media Coordinator, Ever Active Schools From cold snaps and snowstorms to sunny days and perfect, snowman-making snow, living through an Alberta winter means being prepared for almost anything. And when winter weather sets in, children tend to spend more time inside: recesses get cancelled, playgrounds become deserted and the urge to…
Stepping Toward a Greener Tomorrow
Mobilizing students as climate change stewards and leaders of school-based actions to implement school travel.
This project aims to support school communities across Alberta that wish to travel more actively.
Throughout the project, students, along with other invested school community members, support the implementation of the School Travel Planning process. They assume roles as leaders of positive change in their schools by collecting data, observing traffic, creating education resources to help with traffic safety, and encouraging fellow students to travel actively to help reduce greenhouse gas emissions in their school zones. Students advocate for the safety and health of their school communities by voicing their concerns to administrators, trustees and municipal officials (among many others) in the hopes of creating necessary change.
With the support of Inside Education's Clean Air Responsible Schools (CARS) program, we facilitate baseline and follow-up emissions testing at each school site. We help identify school champions who participate in planning and implementation, and we promote professional learning opportunities as recommended by the Alberta Council for Environmental Education to integrate environmental education into curriculum and school culture.

The project provides schools with an opportunity to address school travel planning priorities; aligns with curriculum objectives and supports the achievement of learning outcomes across subject areas; uses a Comprehensive School Health approach; supports teachers with project-specific curriculum ideas and real-world applications for students, which builds capacity for climate literacy; creates safer, healthier school zones with reduced traffic congestion and reduced greenhouse gas emissions; and improves student health outcomes.
Some schools feel like Active School Travel is a mountain that they don't want to climb because their first thought is, if they sign up for Active School Travel, they will have to face the traffic and congestion issues in their school zone. Active school travel is so much more than that! At most schools, our Active School Travel teams start out small with 1-2 champions, and then grow as more people become interested and engaged. Schools also fear that, once the project reaches completion, our support will end. We continue to work with schools by creating new action plans that schools can easily implement to keep the momentum building, even after the project's official end date.

Our project schools have been the recipients of infrastructure changes with improved signage and student loading zones. They have also increased climate change literacy, improved pedestrian and cycle safety programs in their schools, and increased the number of families and students who choose to travel actively. We've also witnessed a swelling interest in our Active School Travel program from schools across Alberta and from various community partners that wish to be part of positive changes in their schools and broader communities.

"Nellie Carlson School added 10 new bike racks – and we filled every space in the first week! Looks like there is another order of bike racks to come! We work with both our fundraising committee and our Facilities crew to get these racks ordered and in place for the school. Aside from seeing our students help reduce traffic and pollution, it's great to see them being active role models in their community. It makes me so proud of our students when I drive into work in the morning and I see our students riding in the community, wearing helmets, stopping at marked crossings, and safely walking their bikes across the road."
– Tara Copeman, former Assistant Principal at Nellie Carlson School
Interested in learning more or getting involved?
Edmonton Traffic Safety Committee
Elder Isabelle Kootenay
Local bike shops