RECREATION FOR THE GOOD OF COMMUNITY
On a chilly spring morning in March 2023 in Medicine Hat, Alberta, a group of new Canadian children and youth gathered to play, learn and connect. 
As part of Ever Active Schools' Resettlement Through Recreation project, supported by several amazing partner organizations, this celebratory day filled the cups of everyone present – quite literally for many, with some tasty hot chocolate.
The goal of the day was simply to provide an opportunity for the children and youth present to connect with peers through physical activity in a fun and casual environment. Play is universal, so it was easy for everyone to come together even with language barriers. From soccer, to tag, to rock paper scissors, there was a chance for everyone to play and have fun!
For two hours, 40 children and youth (the highest number of participants we've seen for a PD/no school day!) rotated through three fun stations:
Snacks and outdoor games by the fire with the City of Medicine Hat and Ever Active Schools

Indoor colouring and exploring the Nature Centre, led by the Medicine Hat Interpretive Program

An interpretive nature walk led by the Medicine Hat Interpretive Program
"I think it was really exciting, on our nature walk that I got to lead, when we spotted the woodpecker or heard the woodpecker before we saw it," said Alicia Lew, Chief Park Interpreter for the Medicine Hat Interpretive Centre. "The kids got very excited about that, so it was nice to have some of the wildlife come out to show us something today because that doesn't always happen."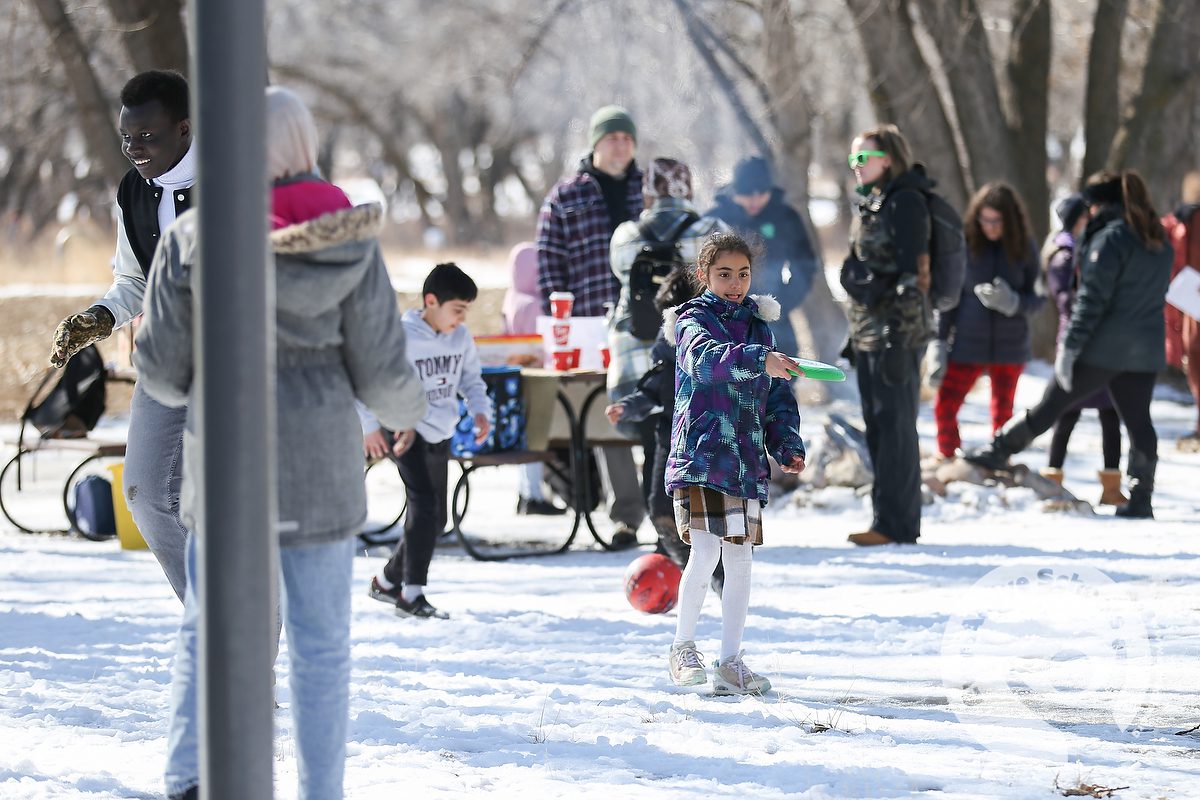 This fun day, and several of the project highlights below, were funded by the Government of Alberta's Return to Play grant program.
Resettlement Through Recreation: Project Highlights
This day of outdoor fun was just one of the ways Ever Active Schools has been supporting resettlement in southeastern Alberta. Here is how the Resettlement Through Recreation project has progressed and is continuing to support newcomer Canadians:
In late 2021, in anticipation of an influx of Afghan refugees to Canada, Canadian Tire Jumpstart approached Ever Active Schools to provide sport and recreation opportunities to newcomer youth in the communities of Brooks and Medicine Hat. After an initial conversation with our partners at Saamis Immigration Services, we quickly realized there was a need for support for refugees and newcomers from all over the world, and so we expanded our initial targets to include all interested newcomer youth.
"The way we came together is that Erynn [from Ever Active Schools] approached us regarding funding for the Afghans," said Aide Hilsendeger, Community Connections Coordinator for Saamis Immigration. "Afghans didn't come to Medicine Hat [at first], although we have one family now. So, we started this project by leading it to all of the refugees."
Through this project, we are able to support multi-sport programming at the local recreation centre in Brooks through the venue rental, equipment and professional development for program leaders.
We created Community Engagement on Wheels – activity wagons filled with lendable equipment – for agencies like Saamis Immigration to engage newcomer families in unstructured outdoor recreation activities on their own schedules.
We started up programming in Medicine Hat to provide active sessions on school PD days. This quickly grew into "recreation nights" at a local school gym, bringing in children and youth aged 5-17 for active games and sports. Some games were as simple as "rock, paper, scissors" or different variations of tag.
Our partnership with Saamis Immigration and the connection with the youth felt like a natural fit.  Shortly after, we planned our first "Family Outdoor Day" in February 2022, adding in the City of Medicine Hat as a partner to the event.  There, we had sleds and helmets for each family, outdoor orienteering games and a fire pit with hot chocolate to warm up. Following this chilly day, we were also able to supply Saamis Immigration with a classroom set of snowshoes for them to use with their families or youth.  
Come Spring time, Saamis approached us with a recreation opportunity for their male youth, as the females were already involved with a local softball program.  We were able to turn to local soccer coaches and have them run soccer nights in June of 2022.  Each child in attendance was able to take home their own soccer ball.  
Looking to engage parents in exploring physical activity with their children, throughout the summer we offered families summer at-home activity kits, including sidewalk chalk and introductory chalk game lessons.  We also provided active sessions during their summer camps.
"The impact has been great," said Hilsendeger. "The kids are more connected to each other, they get to know each other, they come from different backgrounds and different situations where there's been violence, so this is a very positive way to introduce them to Canada, to what we have to offer here and to get them active, to get them really engaged in how Canada society works here."
What's next?
We are looking forward to more weekly recreation programming opportunities through a partnership with the City of Medicine Hat Big Marble Go Centre, as well as Easter PD camps and summer recreation programming.
We're excited for upcoming support from RBC to deliver the next phase of the project: Resettlement Through Recreation Leadership! Building on established partnerships, we will provide training for newcomer youth to develop employability skills, including industry certification, and we will offer paid practical work placements to implement those skills. We know the social impact that sport, recreation and physical activity can provide and we are excited to share these skills with newcomer youth emerging into the workforce.