In the 2022/2023 school year, Ever Active Schools and Canadian Tire Jumpstart entered into a multi-year partnership centered around the dream that everybody plays. Through this work, we are providing: 100% opportunity to participate so that everybody plays. Focus on priority populations so that everybody plays. Capacity building through grassroots approaches so that everybody plays.…
Hosting Healthy Sporting Events
Thank you to our committee members who helped to develop the video:
Dr. Kim Raine - University of Alberta
Dr. Dana Olstad - University of Alberta
Mervin Leibel - Alberta Health Services
Pamela Boyson - Alberta Health Services
Lisa Tink - Government of Alberta
Michael Steele - Alberta Schools' Athletic Association
From 2011 to 2015, Ever Active Schools (EAS) and the Alberta Schools' Athletic Association (ASAA) worked to support healthy changes in the foods sold and served at Alberta school sporting events. Why? We believe healthy food environments should exist in settings that promote physical activity participation to reinforce a healthy lifestyle; and, we believe Albertans agree. In a survey of Alberta school coaches, teachers and athletic directors, 76% of respondents indicated they would support a policy mandating healthy food options at sporting events. Further, 85% of survey respondents would support prohibiting advertising of sugar-sweetened beverages at these events and 83% would support restricting sales of sugar-sweetened beverages at school concessions/canteens.
With funding support from the Alberta Healthy School Community Wellness Fund, the activities of the project fell into four phases: clarify, coordinate, influence and implement.
Phase 1: Clarify
(2011/2012) This stage helped identify key stakeholders and sought feedback from school community leaders who showed readiness to mandate healthy eating within the school community.  86% of respondents to an online survey indicated they would support ONLY healthy eating options within their school sport events.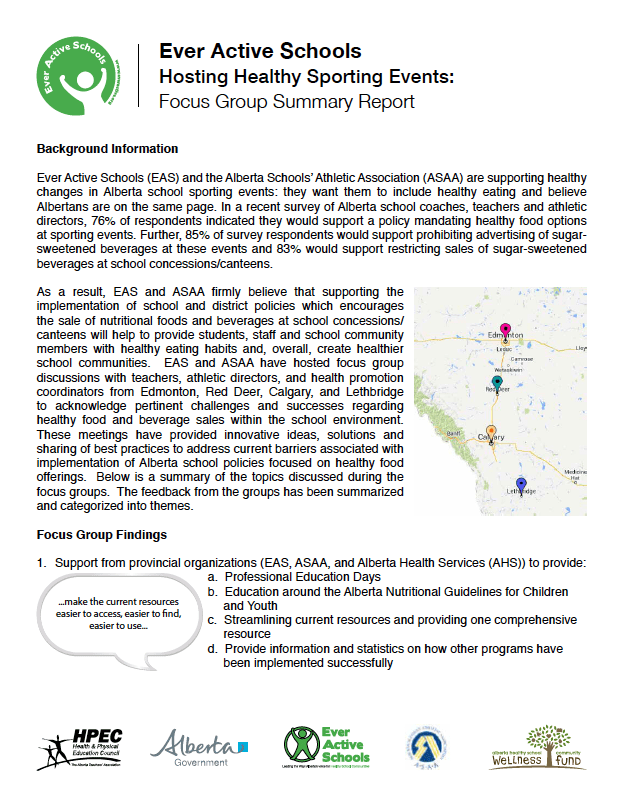 Phase 2: Coordinate
(2012/2013) In this phase focus groups were organized to determine and discuss barriers for implementation of healthy eating guidelines, as well as inform next steps in building support for policy development. Through data gathered from these focus groups, an electronic toolkit was developed to support school communities in creating healthy eating environments.
Phase 3: Influence
(2014/2015) In this phase, EAS, and ASAA worked hard to introduce the new Tool-Kit to high schools and our healthy eating partners in health and recreation. Moreover, during this year EAS and ASAA struck a committee to find a way to positively influence the nutritional offerings at ASAA events. The committee's goals were to guide policy development as ASAA moved towards including nutritional requirements for hosting provincial championship events; develop a clear picture of exactly what is considered appropriate food offerings; and ensure financial constraints are not a hurdle to good nutrition. The following was proposed by the committee to the ASAA board and passed for implementation in 2015-16: "All food offered at ASAA [provincial] championship events (hosted in school facilities) must fit within the Choose Most Often and Choose Sometimes categories of the Alberta Nutritional Guidelines for Children and Youth."
Phase 4: Implement
(2015 and on) EAS and ASAA worked to create a brand as we moved into the implementation phase of this initiative, and began support and promotions for the newly passed policy. And so, Appetite for Change was born.
Appetite for Change offers supports and services to help transform school concessions into healthy environments for the athletes of tomorrow.
EAS and ASAA worked to:
Increase awareness of the initiative and increase comprehension on why this is important
Increase interest and requests for information and tutorials from event hosts
Encourage and support a gradual transition to healthier menus and compliance with the policy
Project Partners and Funders