EXPLORING LOOSE PARTS PLAY AT HOME
WITH THE RECENT NEWS OF CLASSES BEING CANCELLED AND CHILDREN AND YOUTH SPENDING MORE TIME AT HOME OR AWAY FROM SCHOOL, LOOSE PARTS PLAY IS ONE OPPORTUNITY TO ENGAGE IN A VARIETY OF PLAY EXPERIENCES!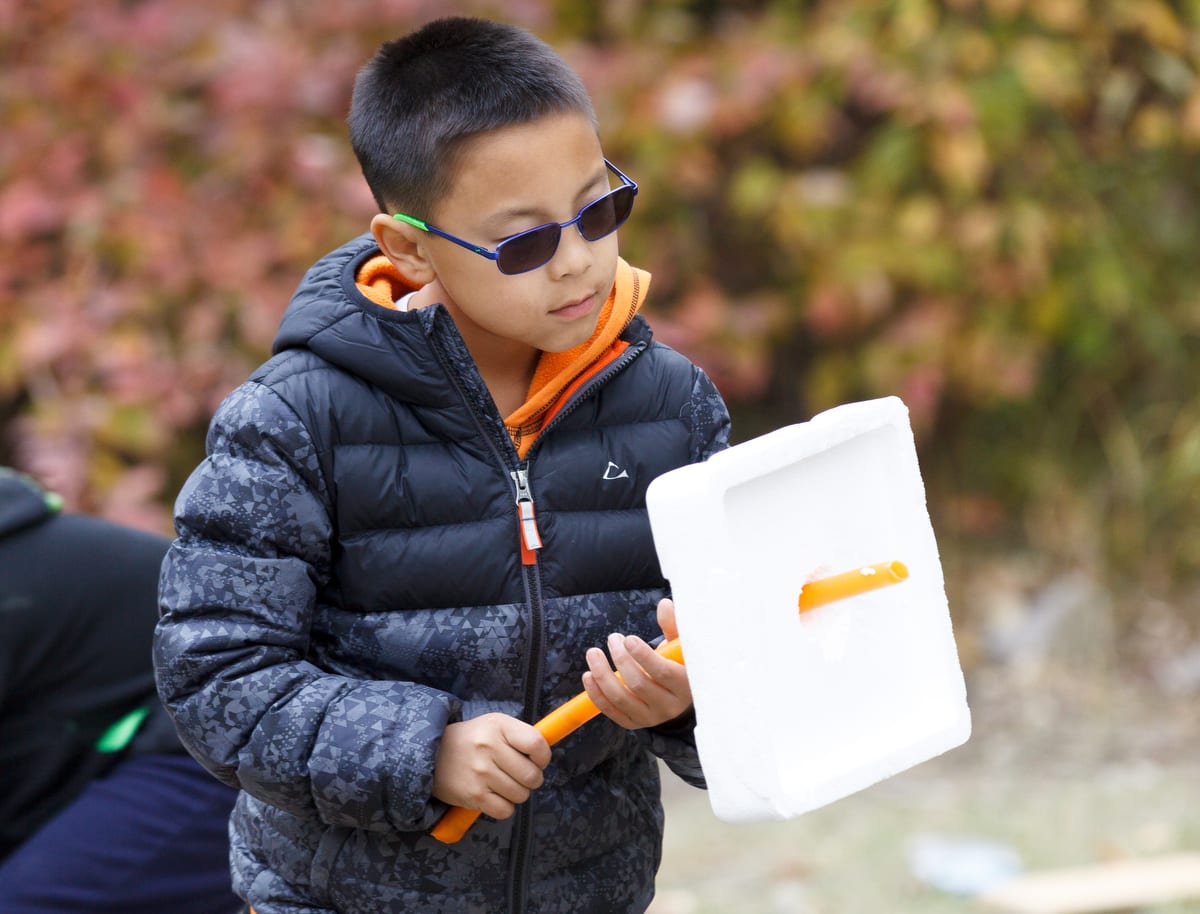 Loose parts play is an unstructured, free play opportunity for children, youth and adults. The play must be child-directed, freely-chosen and intrinsically motivating, which means it is 100% initiated and led by the child – they take the play where they want to. The opportunity for discovery, inventiveness, construction, creativity and enjoyment depends on the number of different parts available in the play space; the more meaningful. It involves repurposing or upcycling simple, everyday materials, often found in and around the house.
Research has classified as many as 16 types of play (Hughes, 2012), and according to Mraz, Porcelli and Tyler (2016) in their book Purposeful Play: A Teacher's Guide to Igniting Deep and Joyful Learning Across the Day there are twelve types of play observable in children and youth. With loose parts play, two common forms of play are large- and small-motor play (also known as gross motor and fine motor), and this is determined by the size/type of parts children and youth are playing with.
Experiences such as water play (including snow!), sand play, and manipulating small objects such as buttons, beads, popsicle sticks, pipe cleaners, pebbles, bolts and screws supports fine/small-motor play. Playing with items that offer weight, length/height and overall size comparable to the child and add a bit of a challenge in order to manipulate such as pots, pans, large cardboard boxes, bed sheets and large fabric, lumber (2x4s), buckets and bins, etc. supports gross/large-motor play. Think of it as a full-body experience.
THE KEY TO LOOSE PARTS PLAY INSIDE THE HOME OR OUTSIDE IN THE YARD IS TO ALLOW YOUR CHILDREN TO EXPLORE THEIR IDEAS. 
When they have an opportunity to freely, voluntarily, instinctively and intrinsically follow through on their thoughts and ideas this will manifest in any of the following types of play:
Mastery:

repeat an action until its mastered

Construction:

use materials in a goal-oriented / product-oriented way

Rules-based:

create, negotiate and adapt to rules

Arts-based:

using materials to draw, model, perform

Symbolic:

transform an object using imagination or fantasy

Language:

using words they make up or change

Make-believe:

imaginative role play

Sensory:

materials of different textures

Rough & Tumble:

physical; involving contact between two or more players

Risk-taking:

understand how far they can go 
ITEMS MAY GET DAMAGED OR LOST THROUGH THE COURSE OF LOOSE PARTS PLAY.
We, as adults, need to be okay with this. If there are certain items you do not want damaged then do not include them in your loose parts play. The less rules imposed on children and youth the more opportunity there is to deeply engage and pursue their ideas and curiosities. The play space should be as safe as necessary, instead of as safe as possible. It's okay to have expectations of safety with themselves, with others, and with nature. It's also okay to define the play space – how far can they go, where can they play with the parts. Keep in-mind part of their play may include wanting to be out of your sight – that's ok! Be sure to define how far out of sight they can be. Set a comfortable boundary for you, while slightly testing your own comfort zone. You'd be amazed how your children and youth can surprise you in the best possible ways.
It might be fair to assume some homes will be having an influx of box deliveries to their home. While we are confident your kids will speak for themselves, let us say on their behalf, "use those boxes for loose parts play!!!" 
COMMON ITEMS THAT MAKE GREAT LOOSE PARTS:
cardboard boxes (delivery boxes, shoe boxes, food packaging, etc.)

cardboard tubes (paper towel rolls)

fabric (sheets, pillow cases, blankets, towels, etc.)

tarps

ropes / ties

pots

pans

lids

bakeware (muffin tins, bake trays, cake pans, mixing bowls, etc.)

kitchenware (tongs, spatulas, ladles, measuring cups, etc.)

baskets

bins

buckets

crafting supplies (beads, buttons, popsicle sticks, toothpicks, pipe cleaners, feathers, pebbles, etc.)
If outside, you can use the items suggested above (with the exception of small items as they can get easily lost in the snow!) and add the following:
tires

trees and other natural features

planters

trowels

shovels
In addition to this list, think of items in your garage or basement that are no longer being used or destined for the landfill or recycling depot. If in safe condition (e.g., no sharp edges or protrusions, exposed electrical wiring, mouldy, etc.) consider it for loose parts play!
For more ideas to help kids keep moving at home, check out the many free resources on our online store.
References: Hughes, B. (2012). What is Evolutionary Play? In B. Hughes (Eds.), Evolutionary Playwork (pp. 53-63).